Hirsutism means an increase in unwanted hair growth on upper lips, chin, sidelocks, and certain areas in the body such as chest, abdomen, and upper thighs. The presence of thick, dark, easily visible hair similar to a male in a typical distribution in a female is called Hirsutism. The most common cause of Hirsutism is PCOS (Polycystic ovary syndrome). other rare causes include ovarian or adrenal tumours in which case Hirsutism can be rapid and severe and such conditions always need immediate attention and treatment.
The hormones responsible for hirsutism are the Androgens, viz Androstenedione, Testosterone, Dihydrotestosterone (DHT), or DHEAS. Anti-androgen drugs which block the action of these drugs effectively reduce hair growth.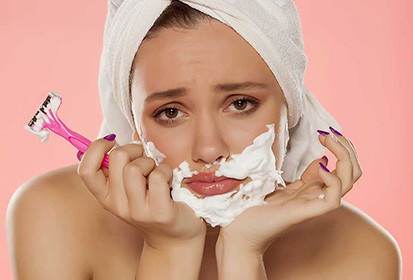 Patients Who Loved Us
Testimonials from the patients who came to us with their problem and got well & gone home with their smile back on the face.
Contact Us for more information & we would be happy to help you.