In adults, our human contains 1000g (i.e 1kg) of calcium of this 99% is in the bones in the form of Hydroxyapatite crystal [Ca₁₀(PO₄)₆(OH)₂]. This crystal plays important role in mechanical weight-bearing and activity through muscle contraction and joint movement.
We keep on accumulating calcium in the bones till the age of 25 years (mainly till 18-20 years) and nothing after that. As we age there is gradual but sustained loss of calcium from the bones predominantly in women after menopause.
We can not halt this loss, but we can slow it down by
Appropriate daily calcium intake
Adequate vitamin D intake
Good physical activity for strong muscles.
Treatment of hormonal disorders such as HypoThyroidism, HyperThyroidism, Hypogonadism, Hyper Parathyroidism, etc.
Avoidance of steroids, caffeine, smoking, alcohol, etc.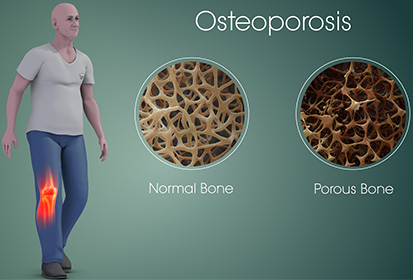 Patients Who Loved Us
Testimonials from the patients who came to us with their problem and got well & gone home with their smile back on the face.
Contact Us for more information & we would be happy to help you.