What are the common symptoms of thyroid disease?
Thyroid disease can include several conditions having overlapping symptoms. Your thyroid can affect different body systems. Therefore, before you get a thyroid treatment in Thane, let's explore the symptoms which are as follows:
● Weight gain or loss – In hypothyroidism, you may gain weight. However, you may lose weight in hyperthyroidism.
● Temperature intolerance – Thyroid disease can make you sensitive to temperature. You may feel cold in hypothyroidism while hot and sweaty in hyperthyroidism.
● Sleep and fatigue – Some of the common issues and symptoms with the thyroid can affect your daily life.
● Mental Health – With thyroid problems, you can experience depression, anxiety as well as other mood disorders.
● Neck or throat – Thyroid issues can cause problems in your neck as well as throats such as nodules, autoimmune thyroid disease and more.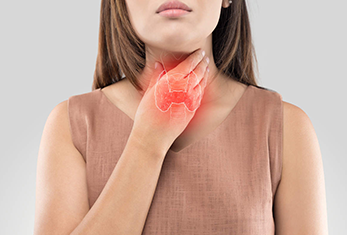 How is thyroid disease diagnosed?
To do a thyroid treatment in Thane, it needs to be diagnosed correctly. However, it can be difficult to diagnose because the symptoms can easily be confused with other conditions' symptoms. Fortunately, tests and methods are there to diagnose it as follows:
● Blood tests – One of the most definitive ways to diagnose the thyroid problem is by telling whether it is functioning properly or not.
● Imaging tests – It will help the doctor look at the thyroid to check whether there is an increase in size, growth or shape.
● Physical exam – Another way to perform a quick thyroid diagnosis is a physical exam that your doctor does. It is a simple and painless test to check for any growths or enlargements of the thyroid.
What is the treatment for thyroid disease?
Individuals can find different treatments for thyroid diseases with the options as follows:
● Anti-thyroid medications will help your thyroid problem by making your thyroid from producing excess hormones
● Radioactive iodine – This treatment damages the thyroid cells and prevents them from making high levels of thyroid hormones
● Beta-blockers – They function to control your symptoms and not change the amount of hormones.
● Surgery – Acting as a permanent treatment, doctors surgically remove your thyroid.
Therefore, for the best thyroid treatment in Thane, we offer the best medical assistance and treatment to you. For further information on thyroid treatment in Thane, feel free to get in touch with us. We'll be glad to assist.
Patients Who Loved Us
Testimonials from the patients who came to us with their problem and got well & gone home with their smile back on the face.
Contact Us for more information & we would be happy to help you.